No Agenda * No Opinion * Just the information you need
Evox Partners with Public News Service to Provide Important Stories Without the Extra Noise
---
Environmental Roundup
LA Mayor Pushes Nationwide Conversion of Cities' Fleets to Electric Vehicles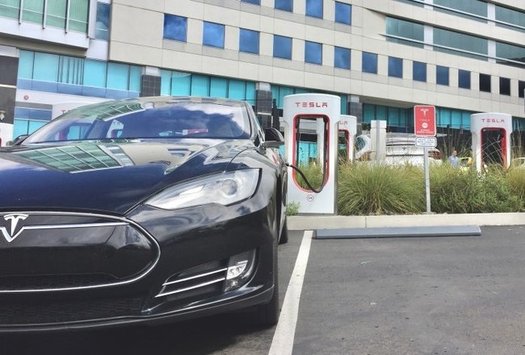 As municipal fleets across the state transition to zero-emission vehicles, pollution from thousands of cars, trucks and buses will be eliminated. (TonytheTigersSon/Twenty20)
September 17, 2018
SAN FRANCISCO — Six California cities plus Los Angeles County are moving forward with a nationwide plan to transition their fleets to zero-emission vehicles - an announcement made in conjunction with the Global Climate Action Summit in San Francisco.
The Climate Mayors' group includes Berkeley, Chula Vista, Long Beach, San Diego, Santa Monica and LA. Lauren Faber O'Connor, chief sustainability officer with LA Mayor Eric Garcetti's office, said the city is making all of its expertise available in a new one-stop-shop online portal at DriveEVfleets.org.
"That means the cars themselves, the charging infrastructure, and all of the information and technical and planning resources that one needs in order to map out that transition for any fleet," O'Connor said.
The Climate Mayors are pledging to fight climate change and improve air quality - and in so doing, meet the targets set by the Paris Agreement, despite the decision by the Trump administration to withdraw from the treaty.
Helen Clarkson is CEO of the Climate Group, which is leading a larger, global effort to eliminate tailpipe pollution and transition to clean electric vehicles. She said so far, 26 countries, regions, major cities and businesses have committed to 100 percent zero emission vehicles. They represent a population of around 120 million people.
"And when you aggregate that, put it all together, you really get a strong market signal to the automotive companies to say that this is what your customers want and to ask them to start signaling when they're going to start the endgame of the combustion engine," Clarkson said.
Clarkson noted the initiative will lead to a large network of electric vehicle charging stations - which will encourage more consumers to start buying zero-emission cars and trucks.
Suzanne Potter, Public News Service - CA
---
Health and Wellness Roundup
Hepatitis C Ruling in VA Could Impact Prisons Across Country
Refusal of treatment for serious medical needs is "cruel and unusual punishment" under the Eighth Amendment, according to U.S. Supreme Court precedent. (Pixabay)
September 17, 2018
RICHMOND, Va. — After being refused the most up-to-date medical care for Hepatitis C while incarcerated at the Buckingham Correctional Center, Elmo Augustus Reid now is receiving potentially life-saving treatment thanks to a recent victory in court.
As many as 60 percent of people in Virginia's prisons suffer from the "silent" infection that attacks the liver, according to an estimate provided by medical authorities to the Virginia General Assembly. However, the best possible treatment is denied because of expenses that can run $20,000-$50,000 for a single course of treatment.
University of Virginia law professor George Rutherglen represents Reid and said the win could be pivotal on a national scale.
"This case involved one prisoner," Rutherglen said, "but it's part of a wave of litigation all around the country trying to expand the treatment for chronic Hepatitis C."
Prison officials agreed to settle the case after their motion for summary judgment was denied. Rutherglen said depending on the region, anywhere from 10-60 percent of people in prison carry Hepatitis C, which has life-threatening effects including causing liver cancer or cirrhosis.
Rutherglen argued that people can't be sent to prison and left to die of liver failure. He said that shows deliberate indifference to serious medical need, which constitutes cruel and unusual punishment in violation of the Eighth Amendment. As for the cost of care, he said tackling the issue actually can save money.
"They cure the disease, and they're much less expensive than treating cirrhosis of the liver or liver cancer," Rutherglen said.
A similar lawsuit was filed in Florida last year, where a federal judge ruled that treatment was lacking and more prisoners needed to be diagnosed and properly treated.
The infection causes other issues such as joint pain and extreme fatigue. It can be spread through needle usage from tattoos or illegal drug injection.
Trimmel Gomes, Public News Service - VA
---
Social Issues Roundup
#GetCaughtReading: Week-long Campaign Encourages Reading for All Ages
Numerous studies show improved test scores and higher rates of graduation for children who are routinely read to as a child. (Brecken Pool/flickr)
September 17, 2018
NASHVILLE, Tenn. – The Governor's Books from Birth Foundation this week is urging people in Tennessee to take a picture of themselves reading.
Tennessee's Imagination Library Week is celebrating the program first piloted by singer Dolly Parton almost 30 years ago.
Now with programs in 49 states and several countries, the campaign to send children from birth to age five a new book once a month is changing lives, according to Dean Hoskins, vice president of the Governor's Books from Birth Foundation.
"Just by the virtue of having books in the home, children are more likely to succeed, not just as they enter kindergarten but at third-grade reading levels," she states. "But also we have seen that parents do engage around books with their children when they are in the home."
Neighboring North Carolina just confirmed funding for a program modeled after Tennessee.
This week as part of the campaign, the state is encouraging people to take a picture of themselves reading and post it on social media with the hashtag #GetCaughtReading.
Hoskins says while the social media effort is a great way to increase public awareness, it's also about making sure reading is modeled for our younger generation.
"We want to raise awareness of how important it is for children to see adults in their lives and older siblings in their lives, reading, that reading is an integral part of everything that happens in family life," she stresses.
More than 1 million children have participated in the program. A state study in 2014 found increased school testing scores for children who received the free books, which are available to all, regardless of income.
Stephanie Carson, Public News Service - TN